The UK's most famous and long-standing Flower Parade
Excitingly designed, dazzling new Flower Queen Float with specially-commissioned trumpet fanfare for Spalding
Breath-taking floats decorated with thousands of hand-pinned tulip heads 2011 theme celebrates 'British Icons', to entertain, delight and surprise you, from The Beatles to George and the Dragon.
Colourful marching bands, top live music performers, street entertainers and local community entries.
FREE to enter finale at The Sir Halley Stewart Playing Field featuring the Upbeat Beatles. Ample parking available!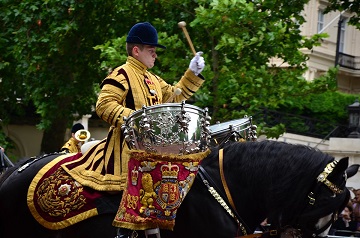 A spectacular procession of tulip-decorated floats will make its way along the 3-mile route from Springfields Event Centre and wind its way through the town along the historic river stretch in front of Ayscoughfee Hall culminating at the FREE to enter Sir Halley Stewart Playing Field.
Heralded by the specially-commissioned trumpet fanfare, the Parade will be led by the magnificent new float of the Flower Queen and her attendants.
Interwoven with the floats that follow will be a fantastic array of marching bands, dancers, street performers and more.
The Parade starts at 2pm and finishes at approximately 4pm when the Upbeat Beatles, the UK's premier Beatles tribute band, will perform some of the Fab Four's best known hits and bring the event to a close. The floats will be then be on display until 6pm and you will have the opportunity to view them close at hand.